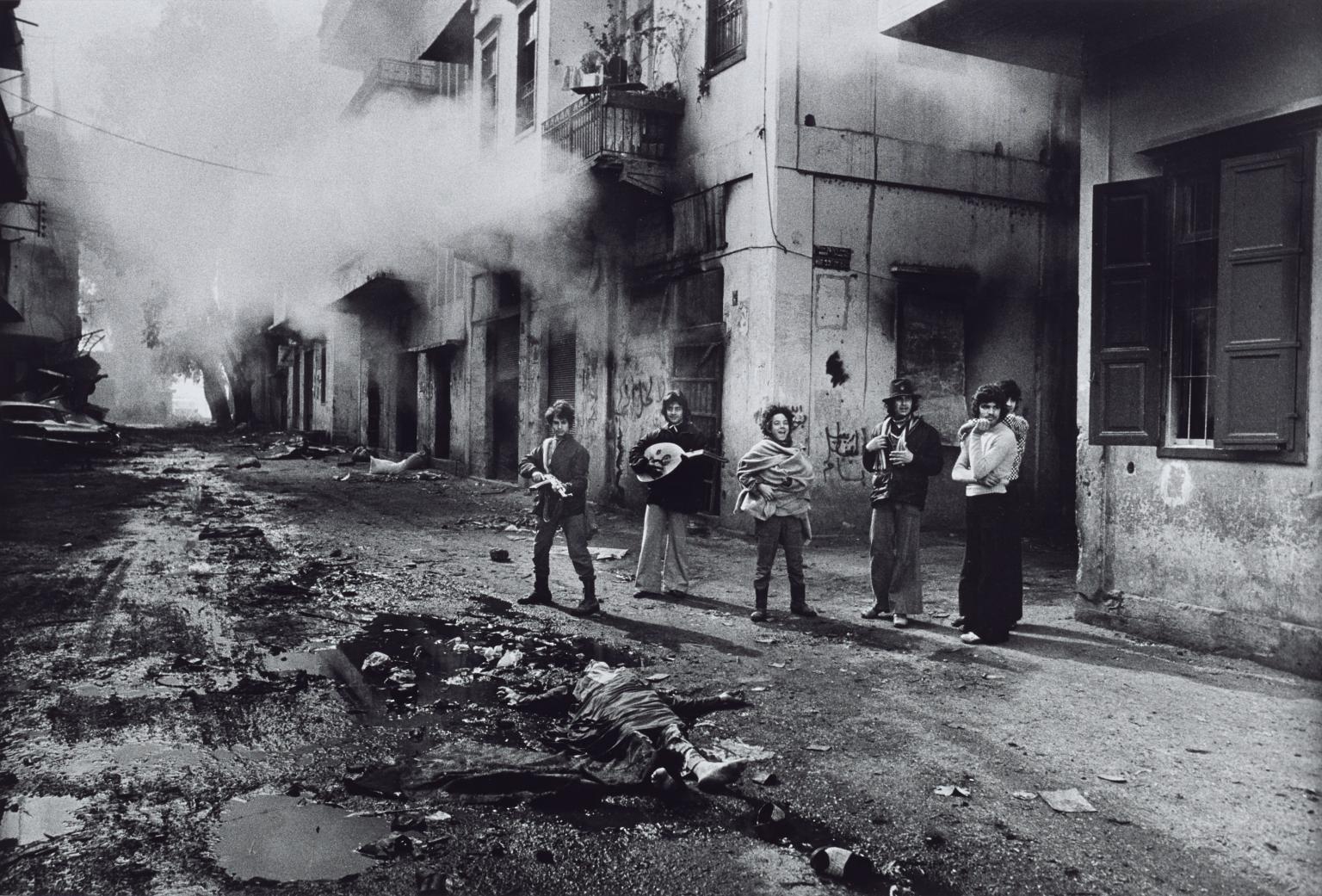 In January 1976, Christian Falangist fighters "cleared out" Quarantina, a Muslim neighborhood in Christian-dominated East Beirut. The Minet-el-Hosn district, a seaside area of downtown Beirut known for its hotels, became one of the frontlines of the religious war that began. The high-rise hotels offered perfect spots for fighters from both sides to launch rockets.
The image that defined that conflict was that of young Lebanese Christians, one with a machine gun and another playing on a looted mandolin serenading the body of a dead Palestinian girl in the middle of the street. The photo above taken by Don McCullin, then working for the Sunday Times, shows the grim absurdity of war and culture of fear, generational trauma, machismo, pretense, and inhumanity that envelopes it.
McCullin remembers:
Once in Beirut, we used to cross from side to side without passports or press cards. One day I met the wrong faction and I carried the wrong card. I was told that I was going to have my throat cut. … I was held in a room for an hour, and I must confess I was never more afraid. It was an Arab left-wing group that had caught me trying to go into the Christian area, where a massacre had occurred the previous day. When I was released, instead of going back to the hotel and trying to control my shakes I crossed into the Christian sector and met some Phalange groups. I had dreaded being slowly killed by a butcher's knife and was in a state of shock. I knew it wasn't going to be a great day. In such a place I have a bad day every day. Inside the Christian sector I saw bodies all over the place. The clothes had been fired, so I saw a husband and wife lying side by side in flames. There were piles of burned corpses.
I saw some Christian Phalangists whom I'd been with the day before. They had an old man, a Palestinian who had come out and surrendered to them. They told him to take his trousers down. Someone pulled out a huge knife and was going to cut off his penis.
The man with the knife told him to put his camera away. "Take no photos, my friend," he said to him, "otherwise I kill you."
"Further down the same road, we heard strumming. A young boy was playing a mandolin ransacked from a half-burnt house. The boy was strumming it among his mates, as if they were at a picnic among almond groves."
Ironically, one boy invited McCullin to take a picture, so he took two quick frames. He knew what he had, a photo that what "would tell the world something of the enormity of the crime that had taken place," a carnival rejoicing in the midst of carnage, telling of what Beirut had become. McCullin notes: The irony was the association of strumming a guitar to a girl who is very much alive and with whom you're in love. This whole situation was reversed. Instead of wooing the live and beautiful girl, this man was insulting the dead girl. He was posing.
The Falangists issued a death warrant for McCullin, who escaped Lebanon by hitching a ride with two Japanese typewriter salesmen. His photos from Beirut won him World Press Photo Award.
As for Lebanon, the country took decades to recover. Beirut was notionally divided into a Muslim-controlled western sector and a Christian-dominated eastern sector — a demarcation that eventually became the Green Line.  Before the war, Beirut was known as the Paris of the Levant, and celebrities and politicians had frequented the waterfront hotels of the Minet-el-Hosn. That Beirut disappeared. Many hotels were rebuilt, but one, the Holiday Inn, remains in ruins (due to disagreement between the owners on how to rebuild) – a poignant reminder of the Battle of the Hotels.
.
If you like what I do and what I write, or simply wants me to write more, you can support me via Patreon. I had tremendous fun researching and writing Iconic Photos, and the Patreon is a way for this blog to be self-sustaining. Proceeds mainly go to buying photography reference books. Readers who subscribe on Patreon might have access to a few blog posts early; chance to request topics or to participate in some polls.
Thanks for your continued support! Here is the link: